Date: 2014-03-06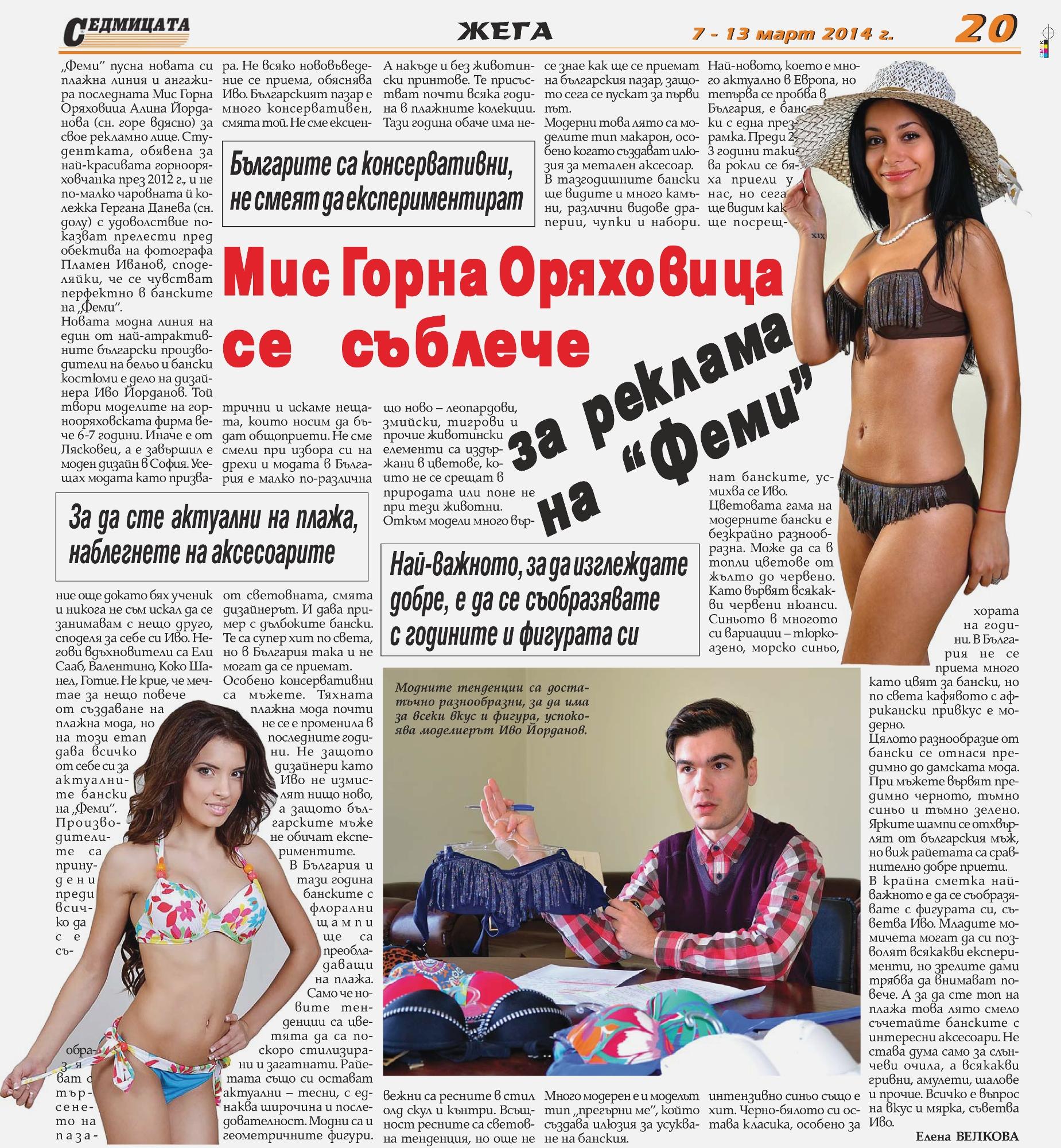 "Femi" launched its new beach line and invited Alina Jordanova - last Miss Gorna Oryahovitsa (see pic.up in right) as a face of this collection. The student - prized as a prettiest girl in town along with her charming colleague Gergana Daneva (see pic. down in left) gladly shown their beauty to photographer Plamen Ivanov, sharing they feel really comfortable in Femi`s swimsuits.
This new line of one of the most attractive swim and underwear producers is made by designer Ivo Jordanov. He creates the models for "Femi" for the last 6-7 years. Born in Lyaskovets, he graduates fashion design in Sofia. "Fashion was always my passion and never wanted to do anything else." - shares Ivo. Its inspiration were Elie Saab, Valentino, Gautier, Coco Chanel. It is not a secret, he dreams for more than creating beach fashion, but at this point he gives its best to create the topics of "Femi`s" beach models.
Producers have to consider the market demand. Not every innovation is well accepted." - explains Ivo. "Bulgarian market is a conservative one." - he thinks. "We are not eccentric and we wear mostly conventional clothes. Bulgarian fashion is different than the global one, because we are not bold in our choice of clothing." Ivo gives an example with the high waist swim pants, which became a huge success throughout the globe, but in Bulgaria was poorly accepted.
Especially conservative are men. Men`s beach fashion has hardly changed through the last years. And it is not due to the lack of designers ideas, but because men simple don`t like experiments.
In Bulgaria this year swimsuits with floral prints will be the most popular on the beach. The new tend is that flower should be just implied, stylized. Stripes are once again hit - narrow, with equal width and continuity. The geometrical shapes are topical too, as well as the animal prints. They gain a place in every collection. The news are that this year`s leopard, snake and all the variety of animal elements are in such colours- one never find in nature- at least not for those particular animals.
Concerning the new styles - real hit are fringed models in old school and country style. As a matter of fact the fringes are globally famous, but yet we shall wait and see how it will be accepted in Bulgarian market.
Another modern tend for the summer 2014 are models with spaghetti, especially if gives the illusion for metal accessories. In this year`s swimwear models one can find lots of rocks, different materials, frills and folds. Real topic is also new style "wrap me", that gives the illusion of twisting. Very popular nowadays in Europe, but yet new for us is the top with one shoulder strap. Bulgarian ladies approved dresses in this style a few years ago, but for the swim wear... we shall see - smiles Ivo.
Colour palette is extremely various. It can be in warm colours from yellow to red, all kinds of shades of it. Blue in its variety - turquoise, sea blue, intensive blue- it is all never out of fashion. Black and white alone and in combinations, is of course classic, especially for the people in middle age. In Bulgaria it is not well accepted for swimwear, but in Europe there is a certain interest to brown colour , with taste (prints) of wild Africa .
This great variety of colours, shapes and styles refers to the ladies swimwear. Evergreens for the man`s swimwear are colours like black, dark blue and green. Bright prints gets refusal from the Bulgarian man, but yet stripes- they are well accepted.
Bottom line - the key is to find a swimwear or clothing that matches our figure - advices Ivo. It is natural for young ladies to be more open minded and experimental loving, but others have to be more careful. The successful beach wear is the one that collaborates with interesting accessories. And it`s not about the sun glasses, the bracelets scarves and amulets. It is a matter of personal taste and judgement.
Written by: Elena Velkova
"Week"- journal
7.03.2014